Viroqua is a small Midwestern city with a strong personality. In the midst of geographical splendor, long-term residents and relative newcomers alike have converged to create an human environment that calls to artists, writers, natural healers and to families looking for a reasonably-paced life full of community warmth.
Planning a visit? CLICK HERE for our "Visit Viroqua" Day Trip Planner
People often marvel at the robustness of this little town. Quite apart from any stereotype of "nothing to do" in a small town, residents are often torn between having to choose from a number of events and offerings.
Viroqua is a thriving rural town where children safely walk and bike to school. There is no suburban sprawl here. Even on residential streets, you can occasionally hear a cow or the howl of a coyote. Just minutes from downtown in any direction lie the gorgeous hills and valleys of the Coulee Region covered with farmland or tall woods. There is much to discover both in Viroqua and the surrounding area.
Click these images to enjoy some great features on Viroqua. The video is from Around the Corner with John McGivern. Look for the mention of our school and some of our former students like Jaali Parrish of Jaali's Dollies and alumnus/current parent Kathryn Ashley-Wright and her mother Lisa Ashley of Ewetopia as well as parent businesses like Bluedog Cycles! This is a great overview of the history of the area as well as many of the small businesses and owners that are special to Viroqua.
The article is from The New Food Economy: How did Viroqua, Wisconsin—a farm town of 4,000—emerge as a major Midwestern food destination?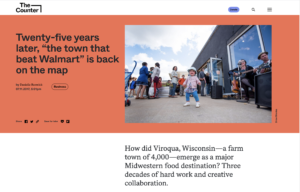 Viroqua History
In 1852 when its founder, Moses Decker, donated 40 acres of land, voters decided that Viroqua would be Vernon County's seat. As such, the town has grown to be the place where people from smaller towns around the county come to get their marriage license or accomplish other civic tasks, and also to shop, dine or have a night on the town.
Today, the spirit of Decker lives on in the generosity of Viroqua's community. Residents have worked together to better the town, including restoring the theater on Main Street, creating a splendid downtown playground and park, building a new animal shelter and establishing a huge community arena. The Vernon County Historical Society is in Viroqua as well as the 150 year old Vernon County Fair.
Shopping & Services
Viroqua has a thriving infrastructure. The north side commercial area includes a locally-owned grocery store, a movie theater, lumber yard, fast-food restaurants, several car dealerships and a 24-hour Wal-Mart. Drive a bit further into the town center and you'll find the charming historic buildings that house businesses established and run by local families, some of them for more than a 50 years. There's a local artists cooperative VIVA (Viroqua Independent Visual Artists). There are several other interesting shops, including an indoor market, an Asian foods shop, Parrish Music, a precious stone shop, Ewetopia Fiber Shop, and several antique shops. On the practical side, the town has two pharmacies, a valuable hardware and farm store, furniture stores, printers, a local newspaper, a bike and ski shop called Bluedog Cycles, and clothing stores, nearly all of them family-owned.
There is a full-service hospital with an eye clinic and a complementary medicine wing with three practitioners including a licensed acupuncturist. There is also an amazing array of alternative health care options in the area, including massage therapists, chiropractors, acupuncturists, herbalists.
Food
Food is one of the highlights of the area. This county has one of the highest number of organic farms in the United States. It is easy to buy from the many small organic farms that produce high-quality produce, dairy products, eggs and meat. Residents really know the seasons by the foods that come right off the farm — neighbors are maple syruping, fresh sweet corn is hawked on street corners, pumpkins grow in the fields nearby. The year-round farmer's market, held Saturday mornings, is an abundance of carrots and broccoli, flowers and herbs, honey and bread, and the Amish baskets and other homemade products. The Viroqua Food Co-op is one of the largest in the Midwest and the place to find all the beautiful, organic produce and other goods that are grown in this fertile land. It is also a gathering spot for lunch or supper and the unavoidable conversations with friends. Community Supported Agriculture is alive and well in the area with such fine choices as the Ridgeland Harvest, Harmony Valley Farm and Driftless Organics (owned by PRWS Alumni Josh & Noah Engel with partner Mike Lind). Viroqua is now home to the award-winning Kickapoo Coffee. Stop by the Driftless Cafe for a delicious meal of local/organic foods while enjoying local music or look for events at the Rooted Spoon Kitchen Table.
Entertainment
In this little town of 4300, people make interesting things happen. Residents volunteered to restore the Temple Theatre on Main St. and now the theater season is lively. Four local acting troupes use the Temple Theatre, The Ark, and the Fortney Underground. The Viroqua Fine Arts Association brings world-class musicians to our stages, Driftless Books & Music keeps writers and poets coming through, local spots like the Rooted Spoon Kitchen Table offer live music and entertainment. And brand new to our area, our very own community radio station, WDRT, Driftless Community Radio broadcasting out of the station on south Main St. and streaming from wdrt.org.
The people here like to move: there's yoga, Pilates, water aerobics, martial arts, and dance. Boys and girls play hockey at the Viroqua Community Arena . The City parks program has many sports and activities for kids. And summer isn't summer without the cries of fans from "the park bowl" where baseball still means hotdogs and popcorn and good fun. Less formally, there are many groups that meet to discuss books, financial investments, business alliances, spirituality, biodynamic agriculture and other areas of interest. Another resource available to brush up on Spanish or learn computer skills is right downtown at the Western Technical College.
Natural Wonders
The geography of the Viroqua area is unique because the glaciers missed this region and left not only the gorgeous rolling hills and the craggy rock outcroppings, but also many species of plants that aren't found elsewhere. Viroqua is 20 minutes from the Mississippi River and 20 minutes from the trails and canoeing in the Kickapoo Valley Reserve. The reserve is almost 8,600 acres of land available for hiking, skiing, horseback riding, biking and camping. The closest state park, Wildcat Mountain, is in the reserve. In or out of the reserve, visitors and residents alike are constantly amazed by the beauty of the area. Biking is a favorite activity in the area with some of the best biking trails in the region just an hour or two away. Nearby, the county park system has designated several parks with trails, camping, picnic areas and swimming spots.
Viroqua is speckled with small city parks and graced with one major playground/picnic area/baseball field/ in beautiful Eckhart Park. This is where you're sure to catch someone you know as the kids run and play in the enclosed playground.
Economy and Business Culture
There is an amazingly diversified, eclectic and vibrant local economy. The cost of living here is still manageable. A three-bedroom house in good condition can still be found for $100,000. Try one of the many realtors in the area: Viroqua realtors list. Two of the local realtors who support PRWS through yellow pages ads include Bill Brooke Realty (ask about a SCRIP donation with Bill) and New Directions Real Estate. Many people in town are not traditional 9 to 5ers, but make a living more creatively. Many "cultural creatives" bring new ideas, start a business, or join others to address an opportunity. Some telecommute and some freelance. Viroqua has high-speed, fiber optic internet service. There's a lot of construction work and some people work in the agricultural sector. There is business support through the Vernon Economic Development Association (VEDA), and the Viroqua Chamber-Main Street organization. People have home-based businesses built around crafts or products like herbs, soaps, clothing or childcare. Two of the biggest employers are the Vernon Memorial Healthcare and Organic Valley, the country's largest organic cooperative of small family farms. Some people also commute for work to LaCrosse, 30 miles to the north, or even Madison, two hours to the south.
The School
The Pleasant Ridge Waldorf School, with about 130 families, has become an integral part of this small town. Some of us live in town and some of us live in the country – the school draws from 2800 square miles. After 38 years, the lines between "the school community" and "the locals" are still there, but the lines are blurring. About a dozen families a year move here to join Pleasant Ridge. In 1996 the Waldorf inspired Youth Initiative High School began next door and serves grades nine through twelve.
Since so many in the school community come from places around the country and around the world, there is an eclectic and interesting group of people who contribute to the varied experience of life in Viroqua. The school affects the greater community and the greater community affects the school. We all work to be good neighbors.We're raising our children together, eating together (potlucks are important in this town) and working together. We've gathered here, where the immense beauty of the land is matched by the solid integrity of its residents. We've found a small bit of paradise in southwestern Wisconsin. Maybe you'll come join us!